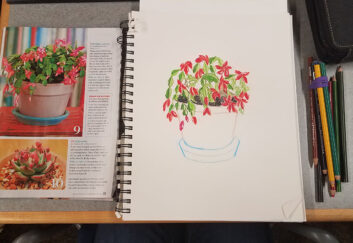 Drawing Together
Join Drawing Together our sketchbook group facilitated by local Rye artists.  This adult drawing group meets weekly on Tuesday mornings from 9:30 am-10:30 am.   Enjoy learning fun, simple drawing techniques which may surprise you as new paths of perception open and enhance the way you see your world.  Simple accessible techniques will be learned that will give you a vocabulary to" interpret and capture your world, to enrich and remember your experience.
No special art supplies — with paper and a marking implement you are on your way!
You will learn at your own pace, with plenty of encouragement in a pressure-free environment.  There will be demonstrations in the sessions, supplies to experiment with and time to ask questions and practice. We will practice techniques in the session and you will start to find your unique style. Then you can continue in your Take-Home sketchbook during the week. Prompts and suggestions will be given for sketchbook explorations and you will bring your sketchbook back to our sessions each week to share, if you wish.  Simple, readily available supplies ensure you will be able to capture your experience wherever and whenever, from now on, to make drawing an accessible lifelong pleasure.
Supplies and sketchbooks will be provided.