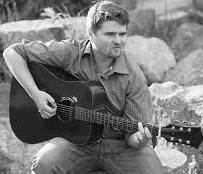 Max Sullivan & Band
Max Sullivan is a singer and guitarist based in the New Hampshire Seacoast who plays a mix of rock, soul, blues and alternative, both solo and with his band the Max Sullivan Group. He grew up learning to play from listening to Jimi Hendrix and Stevie Ray Vaughan, but also looks up to soul singers like Bill Withers and Billy Preston. He also harbors a love of punk rock, some of his heroes including Iggy Pop and the Clash. In 2011 he released his first EP "Redwood," which ranges in style from Dylanesque folk to hard rock akin to Queens of the Stone Age, available on Spotify and Apple Music.
Catch hm on the lawn at the Rye Public Library with drummer Barrett Goeman (formerly of Red Sky Mary) and bassist Anthony LiPetri, an up and coming jazz and rock guitarist currently studying music at the University of New Hampshire.
Bring your lawn chair for this outdoor program. Free and open to the public.