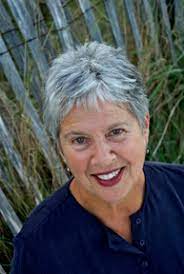 Write a Poem with Mimi White
Come sit on the lovely library lawn to write poems with Mimi White. She will describe a small writing project that she dreamt up to get her through several months of isolation. The impulse is to look through the lens of this line, "A day so happy" and go from there. It's time for a little happiness, don't you think? She will share a poem titled "Gift" by Polish poet Czeslaw Milosz that she used for inspiration. All levels of writers and non- writers welcome.
Mimi lives in Rye NH with her dog Scout. She is the author of three collections of poetry: Into The Darkness We Go, The Singed Horizon, which was selected by Robert Creeley as the recipient of the 2000 Philbrick Poetry Award, and The Last Island, which was awarded the 2009 Jane Kenyon Award for Outstanding Poetry. Her poetry has been published in many journals, including Poetry, Harvard Review, West Branch, the Seattle Review, the Worcester Review and Rivendell. White has received a New Hampshire State Fellowship in Poetry, and was Poet Laureate of Portsmouth, New Hampshire from 2005 to 2007.
Bring your lawn chair for this outdoor program. Free and open to the public.