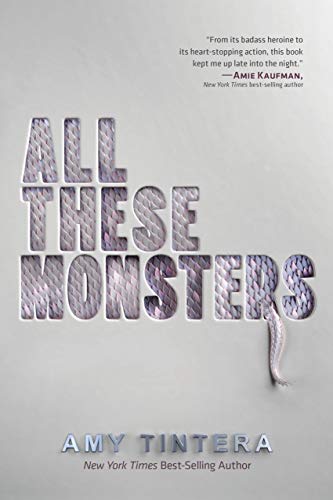 YAttitudes BOOK CLUB Virtual on Zoom!
6:30-7:15pm
VIRTUAL: ZOOM
Grades 9-12
Click Here to register
YAttitudes is back! Join us on Zoom to discuss a new YA title every month.  Titles will be available for pickup at the library. Call to reserve yours or swing by to pick one up!
Registration required.
September book: All These Monsters by Amy Tintera
"From New York Times best-selling author Amy Tintera, a high-stakes sci-fi adventure about a teen girl who will do anything to escape her troubled home—even if that means joining a dangerous monster-fighting squad. Perfect for fans of Warcross and Renegades. 
Seventeen-year-old Clara is ready to fight back. Fight back against her abusive father, fight back against the only life she's ever known, and most of all, fight back against scrabs, the earth-dwelling monsters that are currently ravaging the world. So when an opportunity arises for Clara to join an international monster-fighting squad, she jumps at the chance.
When Clara starts training with her teammates, however, she realizes what fighting monsters really means: sore muscles, exhaustion, and worst of all, death. Scrabs are unpredictable, violent, and terrifying. But as Clara gains confidence in her battle skills, she starts to realize scrabs might not be the biggest evil. The true monsters are the ones you least expect." -Amazon.com
Image from Amazon.com