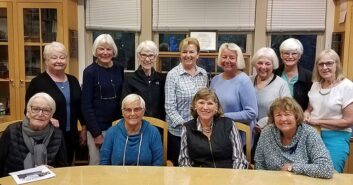 The Friends of the Rye Public Library (a 501(c)3 organization) help support the Rye Public Library by educating our community about the Library, and by donations to further its resources and facilities.
As a Friend, your annual dues help the FORPL provide this vital support, as their main source of revenue is an Annual Membership Drive.
The Friends of the Rye Public Library received the New Hampshire Trustees Association's  2014 Sue Palmatier Award For Outstanding Support By A "Friends Of The Library" Group in recognition of the extraordinary level, variety, and innovation of support they offer to the Rye Public Library, and the civic engagement of this outstanding group.  
Please join the Friends for fun monthly meetings, and special events.  You can sign up here for the Friends of the Rye Public Library Newsletter to keep up to date with news and upcoming events.
The Friends meet the second Tuesday of the month, at 6 PM at the Rye Public Library.
(Effective 2020, all meetings are currently held via Zoom. Contact the library for Zoom information.)
The Mission of the Friends of the Rye Public Library is to:
Promote the Library within the community
Enhance the Library's resources and services
Provide programs that are designed to create interest in the Library
Act as a support group for the Library's financial plans or for additional resources requested by the Library Director
Please renew your membership or become a new Friend!
Annual Memberships run from October 1 of the current year to September 30 of the following year.
Membership levels are as follows:
Individual, $10
Family, $25
Sponsor,$50
Benefactor, $100
Literary Lion, $100+
Please make checks payable to:
Friends of the Rye Public Library
and send them to:
Rye Public Library
581 Washington Rd.
Rye, NH,  03870